News



December 2022
Forthcoming exhibition: Raphael will be holding an exhibition of drawings and prints in 2023 with a catalogue. The exhibition will include new work as well as drawings from his travels to Portugal, France and the West Country in the UK.

June 2016
New linocut prints will be available soon - click here to see some examples of recent ones. Please use the contact form or email Raphael directly for more information.

June 2016
A small drawing by Raphael has been acquired by Tate Archive.

November 2013
Raphael's drawing 'The Blue Lightbulb' is being used to advertise the forthcoming lecture on Blue Light, by the Colour Group of Great Britain, click here for details: www.colour.org.uk

September 2013
Portrait commissions now available, click here for an example

June 2012
Group Show: 'Y.Action', Skypark, Glasgow 7 - 28th June. www.skypark-glasgow.com/events

May 2012
Group Show: 'Bright Young Things', She has a Space, London. More..

March 2012
Solo Show: Cezanne's House - 13Felton Gallery - Raphael Pepper

January 2012
Have your home drawn for £750! New house drawing service by Raphael, click here to see an example.

Donkeys - new prints now available in red, violet, green and brown, click here to see them.

December 2011
Forthcoming exhibition: 'Postcards From the Edge' 7th to 8th January 2012: A Benefit for Visual Aids, Cheim and Reid, New York.

August 2011
Forthcoming talk: Raphael will be giving a talk on colour for The Colour Society of Great Britain on 2/11/11 at 2pm at City University. Admission Free and everyone welcome, please see: www.colour.org.uk for details.

July 2011
'Disturbance' has been allocated by the Contemporary Art Society of Wales to Scolton Manor Museum, Pembrokeshire. The drawing shows St Mary's in Pembrokeshire, an historic but abandoned church in the fields, that has now been overcome by thorns.

April 2011
Columbian Embassy, London acquire an edition of the linocut 'The Moment (North Beach against the Night Forest)'.

Forthcoming exhibition at MoMA Wales, featuring 'Disturbance'

First Public Artwork in the United States. A study for the Mission Dolores Mural, San Francisco, in association with the artist Ben Wood. Raphael has drawn the Mission Dolores Mural in a highly detailed preliminary study, so it can be painted onto the Mission Market Wall at Bartlett and 22nd Street as a permanent installation. Click on this link to see the finished mural, which was painted by Jet Martinez, Bunnie Reiss, and Ezra Eismont.

March 2011
The National Gallery Prague, Czech Republic acquire 'Together'.

February 2011
The Victoria and Albert Museum London, have acquired a hand drawn Christmas Card by Raphael for their Christmas Card collection, which is part of the collections of Prints, Drawings and Paintings. The card has the drawing 'Snowboys' on the front. Click here to see the cartoon for this drawing.

November 2010
National Art Museum of China (NAMOC), Beijing, acquire 'The Moment (North Beach against the Night Forest)'

August 2010
New small drawings available now from £300, including frame. Call or email to arrange a studio visit: Example of small drawing for sale: 'self portrait as a bird'.

The National Maritime Museum Museum have acquired 'Cardiff Docks', which was featured in the exhibition 'Transfiguration'. The National Maritime Museum in Greenwich, London is the world's finest collection of maritime art. Raphael Pepper's drawing 'Cardiff Docks' is the first work to be acquired by them in the 21st Century. The drawing depicts the huge and strategically vital docks in the height of summer 2009 being used for leisure, with it's naval history now all but a distant yet echoing memory.

June 2010
West Wales Arts Centre, Drawings are now available from: www.westwalesartscentre.com

New studio opening, email news@raphaelpepper.com for an invite.

April 2010
Current Exhibition: A Critics Choice - Browse and Darby - Curated by Andrew Lambirth
14th April - 7th May 2010. Click here for more details.

This exhibition will feature three works: Splinter, The First Night and The Sea, Dymchurch. A fully illustrated catalogue with an essay by Andrew Lambirth will accompany the exhibition. Please contact the gallery for further information.

March 2010
The Royal Collection have acquired 'Long Passage', which shows the view from the Palm House at Kew Gardens.

February 2010
The Olympic Museum, Lausanne / IOC, have acquired 'The Raising of the Stadium', which shows the London 2012 site in East London.
www.arts.ac.uk
www.thejc.com

January 2010
Galleries Magazine: Raphael Pepper's article on drawing in colour in this month's 'Nuts & Bolts' section. The magazine is available for free from all museums and galleries.

view article (pdf)

A mural created by local school children together with Raphael Pepper and Dan Llywelyn Hall is now on display at Ty Hywel, National Assembly for Wales, Cardiff.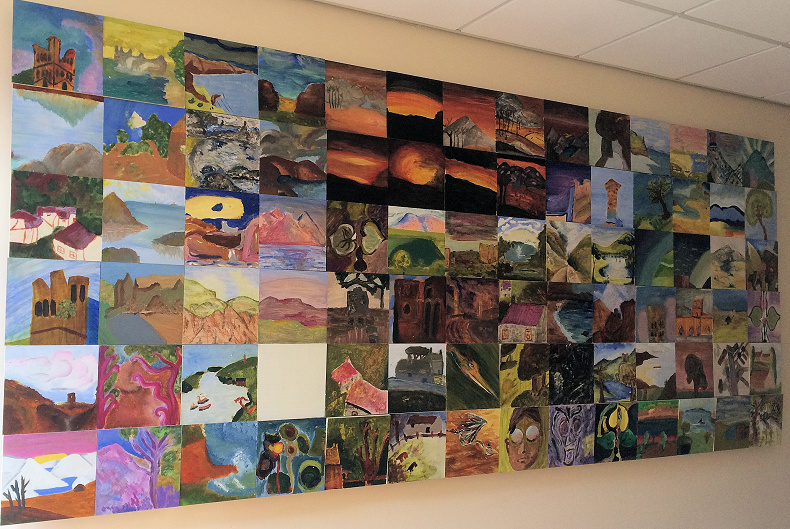 Drawing Center, New York:
Raphael Pepper's work is now featured in the online viewing program artists' registry. To view, please go to www.drawingcenter.org, click on viewing programme and type Raphael Pepper into search.